CPSTS was a featured organization at the 5th Annual Parkdale High School College and Career Fair. The event, sponsored by County Council Member Dannielle Glaros – District 3, was held on October 2, 2019. Several Colleges and Universities were there to meet and talk to students and parents about degree programs offered on campus, online, in state or out of state. The list of Colleges and Universities was impressive.
Students and parents also had the chance to explore career opportunities ranging from career training programs to actual job recruiters. Recruiters from branches of the military, County Public Safety agencies, contractors and Labor Unions were there to discuss the educational requirements of entry-level jobs through promotional growth and answer questions.
The Fair offered free information sessions. The session topics were on Financial Aid, College Money for Undocumented Students and NCAA Eligibility.
The traffic to the CPSTS/Linnell Driving School table started out slowly but increased as the evening went on. Many students that visited the table were Seniors and unable to participate in the Fire Cadet Program, but there was plenty of interest in the Driver Education Program. We also had students interested in participating in upcoming Safety Tour to sign-up.
Mr. Taylor was able to talk briefly with the Principal and Council Member Glaros but missed meeting the PTSA President, Michael Dickson or Pastor Mike as he's called. Overall, a somewhat productive evening!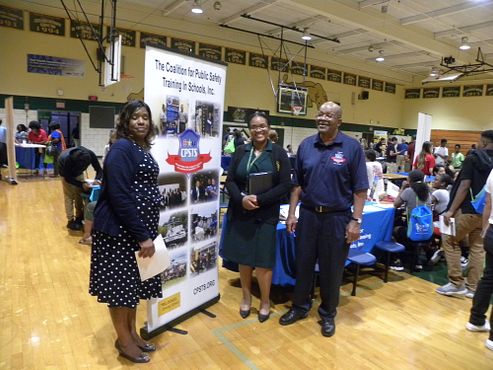 (Right) President/Founder Bill Taylor, CPSTS, takes time out for a photograph with Dr. Tasha Graves-Henderson (Left) Principal at Parksdale High School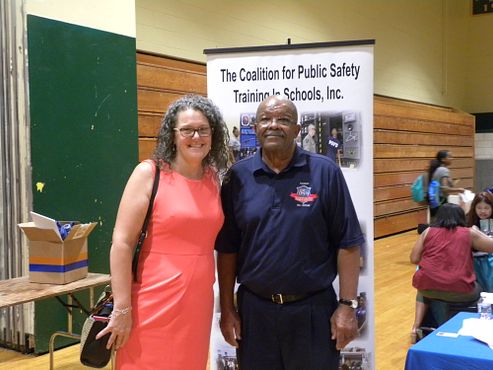 (Left) Council Member Dannielle Glaros, District 3, sponsored the event and thanked President/Founder Bill Taylor, CPSTS for his participation.